PREPARE FOR YOUR FIRST TANDEM SKYDIVE IN FLORIDA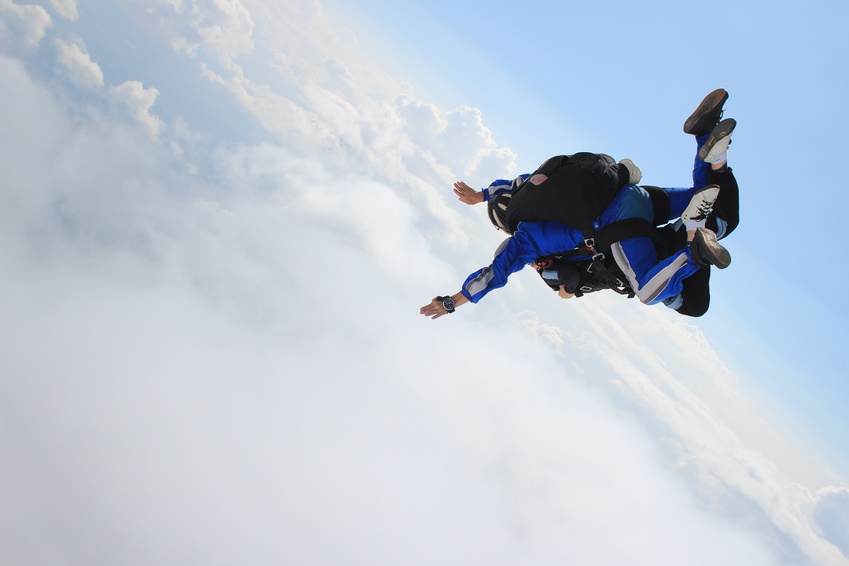 You've picked out your drop zone, you're jumping for the first time with an experienced skydiving team that has every aspect checked, double-checked, and triple-checked, but is there still more to know? Actually, yes there is more to know and learn when it comes to preparing for your first tandem jump. Do you know how to prepare yourself? Can you make your first fall absolute skydiving gold? Do you know how long a freefall lasts? The answers to those questions and more are waiting after you pull the cord to parachute into important information concerning a first tandem jump.
Who Wants to Jump Out of a Perfectly Good Airplane?
Adventure enthusiasts searching for the best possible first tandem jump want to take that leap with the proper guidance. Nothing feels better than a good freefall. A tandem freefall typically lasts from 45 to 60 seconds, with a four-minute canopy ride. Those seconds are filled with bliss when you're ready!
Parachuting isn't something you want to do without getting yourself ready. You need to prepare yourself for skydiving mentally. There is a wide scope of emotions when it comes to how you will or won't react to a tandem jump. Will you pass out? Will it be a fun and easy experience, or will it be more of a challenge than you initially thought? You will be amazed to find out that in most cases, jumpers are just fine. In fact, they loved their first tandem jump so much, they want to do it again!
Conquer the unknown and the fear of skydiving. It stands to reason falling out of a plane is just scary. But it is a risk that's managed and healthy to face and overcome. It's okay to not know exactly how you will feel. The point is to become a first time jumper and try. Unleash the brave adventurer inside of you and give yourself more credit.
Eat Like You're Going Skydiving in Tampa
Once you have made plans to enjoy your first tandem jump, eat sensibly, normally, as well as moderately. You do not want to be too full or have an empty stomach. When your stomach is too full your body will be using your blood supply to digest instead of allowing healthy blood flow to your brain, which you need to use to focus on the jump. An empty stomach could cause you to bottom out with low blood sugar making you feel lethargic and unpleasant.
Do you think you can't eat at all because you're too nervous? That's understandable. Try to drink a high-calorie smoothie. Bring some healthy snacks with you too, for eating before or after your jump not during. The whole point is to keep your blood sugar in check so you have the time of your life!
Know What to Wear and What Not to Wear for Skydiving
Dressing to skydive is not rocket science. However, there are a few simple basics that will ensure you're ready to jump with the best of them! Wear comfortable, tight-laced sneakers. Loose shoes tend to be taken by the wind, and the wind won't give them back. Pants are important too. Reasonably stretchy pants, like gym pants, are ok to wear so you have movement room. Ideal shirt choices include snug-fitted layers. Even if you may not wear it, bring an extra long-sleeved shirt in case you need it. Generally, you want to wear clothes that do not have any metal grommets, strings, pompoms, rhinestones or details that could flap around and cause pain, or be tugged off by that dastardly wind.
Tandem Skydiving Is a Significant Event
The very first time you skydive will leave a lasting impression. Capture the event with videos, photos, and with friends and family. Spend the whole day enjoying learning about skydiving, freefalling, parachuting and tandem jumping. Spread your wings and fly, well with the help of an experienced jumper that knows exactly how to get you both down to the ground safely.