Tandem Skydiving Florida – Your First Jump!
Turn your dream of flight into reality! A tandem skydive is a great way to experience the thrill of freefall for the first time. Don't worry, you will be accompanied by a USPA certified, experienced instructor at all times. Our instructors are among the most experienced skydivers in the country, with thousands of jumps each under their belts.
Curious about your first tandem skydive?  Of course you are!
Our Tandem Skydive Overview (below) covers the Step by Step details of your first skydive!
Arrival | Check-In | Gear Up
When you first arrive at the skydiving center (dropzone) proceed to check in at our Manifest window.  The dropzone is a busy place so we have multiple signs to lead the way.  Our helpful manifest staff will confirm everyone in your group has completed payments and all the required waivers are complete.  Once this is completed one of our tandem instructors will provide you with a Tandem Skydive Overview while fitting the harness you will wear for your skydive. Your instructor will then inspect the parachute system and you will be ready to board the aircraft for your Skydive!
If you purchased the skydiving pictures and skydiving videos package your instructor will capture a fun pre-jump interview to document just how you feel before your skydive.  You can find some examples of our full skydiving videos here.  Your first jump is definitely something you do not want to miss capturing on pictures and video!
We are often asked, "Is there a weight limit for Skydiving?"  The answer to this question and many more can be found on our Frequent Questions page.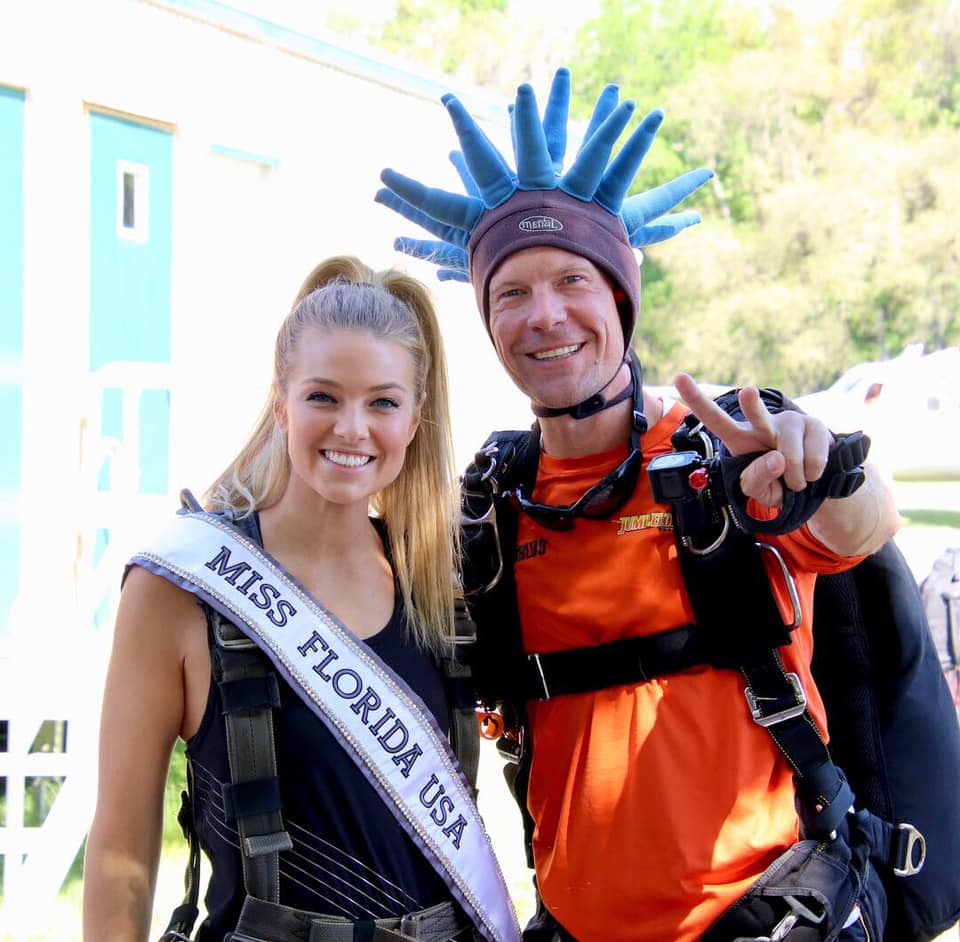 Your instructor will guide you every step of the way boarding the airplane. There will be plenty of fun moments to capture on camera, so be sure to select the skydiving video and pictures package when you make your reservation!
Take Off | Climb to Jump Altitude
Once all jumpers have boarded the plane, the pilot will take off and start climbing to our jump altitude. It will take you 12-16 minutes to get to full altitude depending on the jump altitude you selected.  Of course you chose the 18000 ft. jump!!!! Ask your instructor to point out the local landmarks!
Once the airplane is climbing, your harness will be securely attached to your instructor's harness. Your instructor will record a short interview to capture all of your emotions on the way up! (Did we mention you should get the video and picture package?)
Before you exit the aircraft your instructor will repeat the important parts of the Tandem Skydive Overview so it's fresh in your memory.  They will remind you where to place your hands, the proper body position, and a reminder to breath, relax and HAVE FUN!
The most thrilling part.. stepping out of the airplane into the blue sky!  Be sure to keep your eyes open and smile for the camera as you exit the plane!
Take in the breathtaking views of Tampa, Orlando, and St. Pete in the distance far below.  Feel the wind in your face and your heart pounding with an excitement you've never felt before! You will be in free fall for about 60 seconds. Enjoy the unforgettable views with nothing to worry about as your instructor will open the parachute when it's time! If you purchased the skydiving videos package your instructor will capture every second of your free fall from exiting the aircraft to parachute opening, and your soft safe landing.
The moment the parachute opens will most likely catch you by surprise! As the parachute deploys and slows down your decent it feels like you are getting pulled softly upwards, as you transition from the horizontal free falling position to sitting vertically in your harness. Don't forget to look up as the canopy inflates, it's an amazing sensation and experience in itself!
Parachute (Canopy) Flight
Once the parachute opens, you will slow down and enjoy the quiet yet breathtaking parachute flight. As you slowly descend for around 5 minutes, you will have plenty of time to enjoy the sights and chat with your instructor.  Ask them to point out the notable spots on skyline! To most skydivers, flying the parachute is every bit as enjoyable as free fall. The views of Florida are scenic and serene, as you fly and navigate your way back to the drop zone!  Your instructor will demonstrate how to steer the parachute allowing you to "fly" as much or as little as you like.  Have no fear, your instructors hands will never leave the controls while you are flying the parachute.  You will also practice the landing at this time so you know what to expect as we come in for a nice soft return to earth.
And finally, the landing! Your instructor will steer the canopy to the landing area right next to our hangar. Your friends will be there watching you land from our spectator area. Our photographer will capture that moment of pure joy as your feet touch the ground!  (Did we mention – BE SURE TO GET THE PHOTO AND VIDEO PACKAGE 👍🏻 👍🏻 👍🏻)
You did it! Now you can fully understand why we say…….
To those that have jumped, no explanation is necessary. 
To those that have not jumped, no explanation is possible.
Business Hours
Monday - Sunday: 8AM - Afternoon
Service Offerings
Tandem (First Time) Skydiving, 
Skydive License Training (AFF),
Experienced Jumpers
Payments Accepted
 Cash, Visa, Mastercard, Discover, Amex
Are You Ready To Tandem Skydive in Florida ?!?!