MAKE YOUR FIRST TANDEM SKYDIVE FUN AND EXCITING
Tandem Skydiving is the most secured and enticing adventure sport that can give you once in a lifetime experience and the happiness of jumping from the height of more than 14000 ft. However, it requires immense courage and confidence to jump from the height; this is where schools like Jump Florida make one stop destination for all the aspirants willing to practice Tampa Tandem Skydive. Another exciting thing about tandem skydiving is that you free fall for about 60 seconds and at a speed of 120 mph and experience the most adventurous sport of the millennium.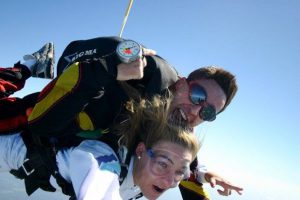 Moreover, only a half an hour's training is enough for a beginner as the tandem skydive is simple and more technique oriented based. Once you gain ground over tandem skydive, we set you free to jump while one of our trainer stays with you during the jump so-as-to assure complete safety and enjoyment of you; as safety is our first priority. You jump from a height of around 14000 ft and see Orlando and Tampa and nearby views that you cannot enjoy while being on the ground.
Besides being an exciting sport, Tandem skydive requires a certain conditions cum norms to be fulfilled before you practice it. One, you need to be at least 18 years old, two, you need to be less than 230 lbs in weight and have a proper and comfortable attire before you jump. You also need to bring all necessary gear with you like goggles, helmet, and other necessary equipment as suggested by your trainer.
Another important thing that you must know about any skydiving school is the certification. Like Jump Florida, all tandem skydiving schools must be certified from the United States Parachute Association. It ensures your safety and you know that you're in safe hands. Jump Florida also offers short term courses for those willing to learn our accelerated free fall program. We offer customized seven day course by which you can practice solo diving; our instructor guides you via radio connected on your helmet and helps you to jump independently. Once you've completed the course, you can apply for licence if you wish to do job with us. By practicing just 25 jumps you can become eligible for attaining the licence and become professional skydiver. For more information kindly login at www.jumpfloridaskydiving.com or phone us at 1-888-313 (5867).