SKYDIVING SHOULD BE ON YOUR NEW YEARS RESOLUTIONS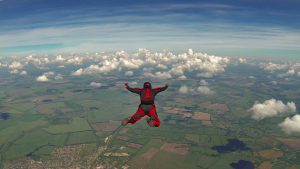 As you reflect on 2018, you might be tempted to start building a list of goals in 2019. While most people will put down long term goals like losing weight or quitting smoking, you know that the key to happiness is engaging in new experiences.
When you want to start the new year off right, think about skydiving! Here's why it should be at the top of everyone's list of new year's resolutions.
You want to build your self-confidence
Skydiving is a completely safe activity when you're tandem skydiving with an experienced jumper. Nevertheless, many people are nervous to step out into the open air. It's only natural to fear the unknown.
But the exhilaration you feel following your first jump is unlike anything in the world! Not only will you feel proud of yourself for overcoming your fears, but you'll have pictures to commemorate one of the bravest moments of your life. After your first time skydiving, you'll know that you can tackle any adventure that comes your way.
You can appreciate the world in a new way
Many people hope to change their lives in a positive way as they write down their new year's resolutions. When life and the world gets you feeling down or jaded, it's best to try to look at it from a new perspective.
There's no better perspective than the one you'll witness as a first time jumper. The gorgeous views and scenic waters you'll witness as you freefall until around 2,500 feet where your tandem partner will deploy your parachute. As you drift gently to the ground, you can take in all the beauty surrounding you in the open air.
It's on your bucket list
Ask any person what they hope to do before they die. Most of them will say outlandish activities, including skydiving. But skydiving is one of the safest and exciting sports available!
Before you "kick the bucket," you might have a number of activities you want to try. But why wait until you're older when you can experience the fun of your first tandem jump right now? Dive into the new year with a taste of adventure. Call Jump Florida Skydiving when you want to schedule your skydive in Tampa today.