DO ENJOY BUT SAFETY ALWAYS COMES FIRST
Skydiving is such an adventurous sport that to perform it, one really needs to gear up before going up for it. One needs a strong heart, to jump into air from an air plane at a height of thousand feet of heights and then let go of their body loose before they land again on the land with the help of a parachute.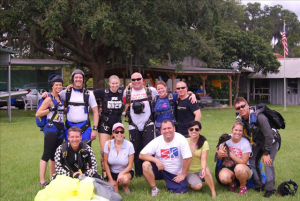 But, in case of Tandem sky diving the thing is quite different. Here one indulges to the adventure sport with the help of an instructor. Both the diver and their instructor are attached together with a harness when they jump out of the plane and then the instructor helps the diver to open the parachute and throughout the dive, they keep on instructing the new diver on what to do and what not. Yes, it is true that the sky diving prices become high in case of Tandem sky diving as there is an instructor to accompany the diver and it is a safer dive than the other sky diving attempts.
There are some basic things that one needs to follow
Even if one is going for tandem sky diving, there are some basic rules that one needs to follow before they go out for the dive. There are a few instruction classes held before the practical thing starts. One needs to attend those theoretical classes. Do the practical classes very sincerely. Even if there will be an instructor on the final day of dive, but it is always better to keep yourselves prepared and knowing a thing well always give you confidence. On the final day of dive, check the weather before going for it. If it is too windy and there is a possibility of lightning or storm then it is better to not go for the dive on that day.
What you wear is important
Yes, whether you go for a Tandem sky dive or just for a sky dive then what you wear is very crucial. You cannot wear something with flares and have a tendency to blow away in the wind as there are high winds at high altitudes. The best dress to wear before going for a dive should be a pair of tight trousers or jeans and a t shirt. Shorts are also cool. Just you need to wear anything which is body hugging and you should be comfortable in it.
The instructions which are important
Do not go for the dive if you have fever or other sort of illness on that particular day. If you suffer from height fears or vertigo or have a heart problem, then it is better to stay away from these kinds of adventurous sports.
Before going for the final dive goes for the safety check well. See if all the things are toed to you properly before you jump off from the air plane.
Some may feel a bit of nausea after the parachute is opened, but the instructor takes hold of it.
Enjoy your adrenaline rush dive to the core.